For many years, we have been supporting a wide variety of organisations, institutions or associations. Through donations, we want to promote socially important projects.
In addition, a few years ago we decided to stop accepting personal Christmas gifts and to donate them. So we decided to invest the money in other meaningful ways and were able to reach higher sums and thus financially support several organisations in one year.
You can find some of the organisations that we support here:
Esders and the scouts of Haseluenne
Our connection to the scouts of Haseluenne goes back a long way. As former scouts, we know how formative and unforgettable these experiences are. That's why we are thrilled to support the scouts in Haseluenne now as entrepreneurs.
With great pleasure, we donated a new big tent to the scouts for their summer camp – a cozy and inspiring environment where adventures and memories are made.
But our support extends beyond the tent donation. We brought a PA system to fill the camp with music and vibes.
Our commitment today is to help ensure that future generations of children and youth can share the joy of scouting's fellowship and adventures.
It is a matter of the heart for us to keep these values alive and to continue the tradition of the scout movement.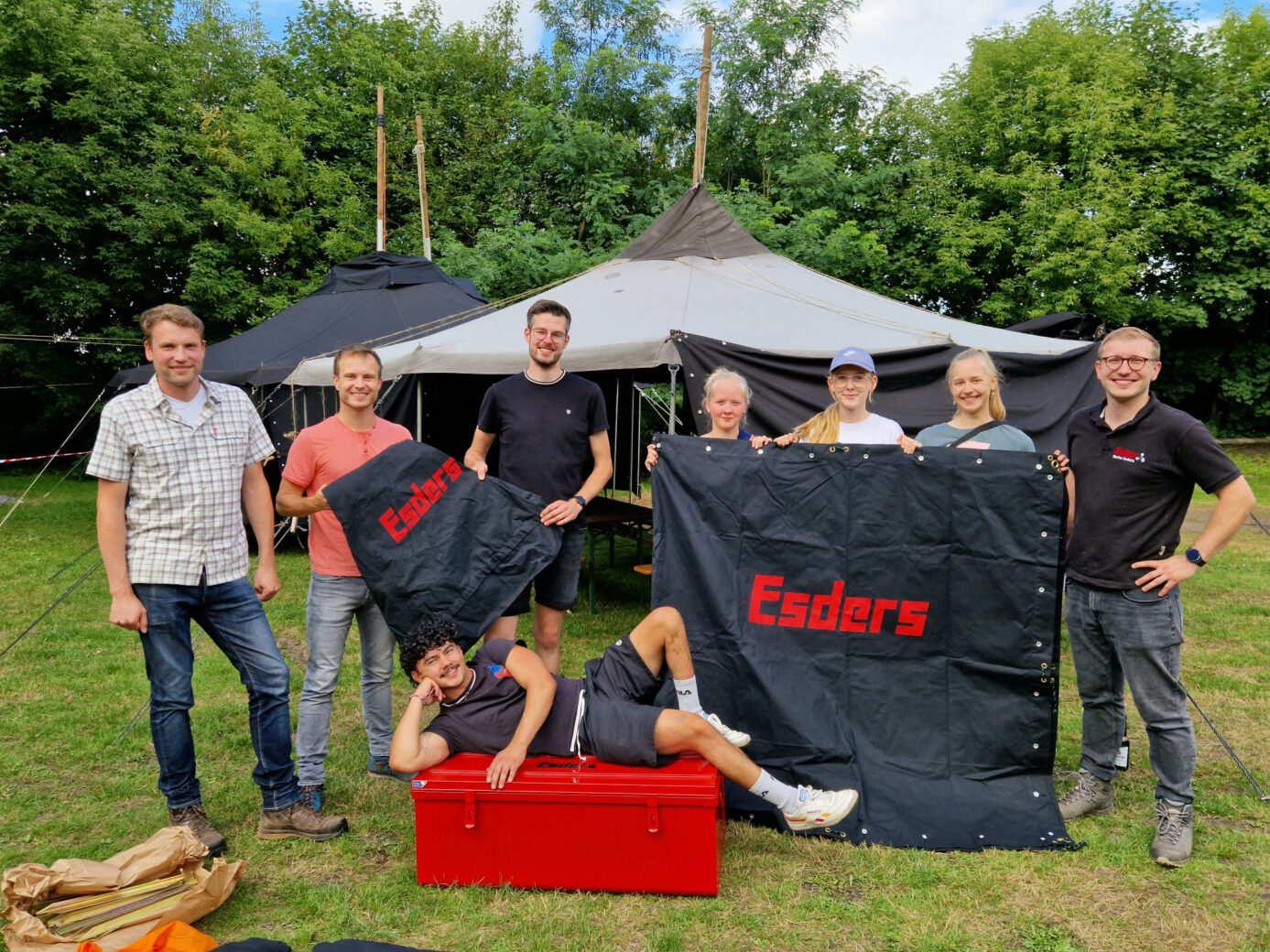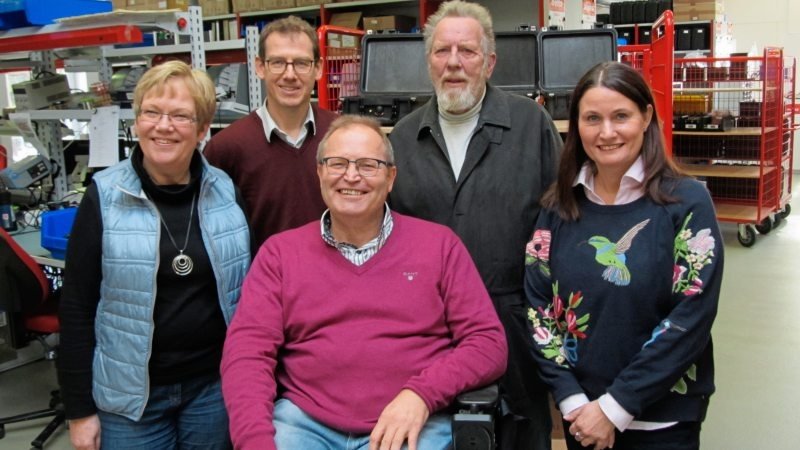 The Tafel Haselünne / Social Service of Catholic Women
The Haselünner Tafel is visited by about 600 customers every month, explained organiser Gerd Schoon. "Of these, about 400 are children from the area of the town of Haselünne and the Herzlake joint municipality". Our donation will be used especially for the energy costs incurred at the Tafel. This applies to the diesel used by their own small lorry and the electricity consumption of the refrigerators and freezers at the Tafel.
We have also donated to the SkF Meppen several times. In addition to pregnancy counselling, there are sex education services for pupils and young people as well as anonymous online counselling services. The SkF is a partner in the network "Early Help" with the midwife and family mentor project and, as a recognised provider, offers numerous counselling services in the area of socio-pedagogical family support, Ms Nürenberg and Ms Gödde-Zink explained. In addition to the 24 full-time staff members, about 100 volunteers are involved.
We have been supporting arche noVa, the initiative for people in need, in various projects for several years now. With a focus on water, sanitation and hygiene, they enable people to have access to drinking water and sanitary facilities, for example.
In Indonesia, new school toilets for children with and without disabilities are being built according to the principle of "building back better".
arche noVa wants to build a total of 32 sanitary facilities. We are very proud to support this project with our donations.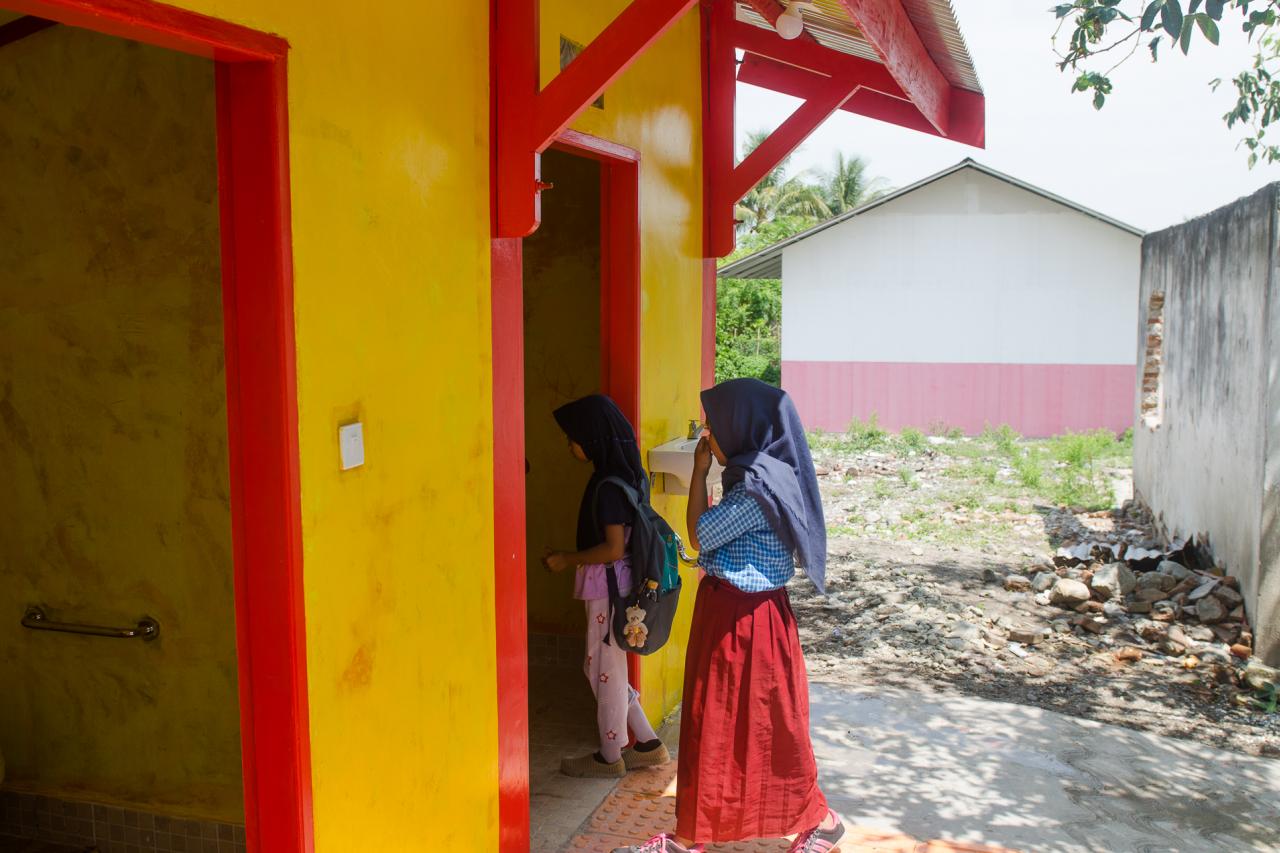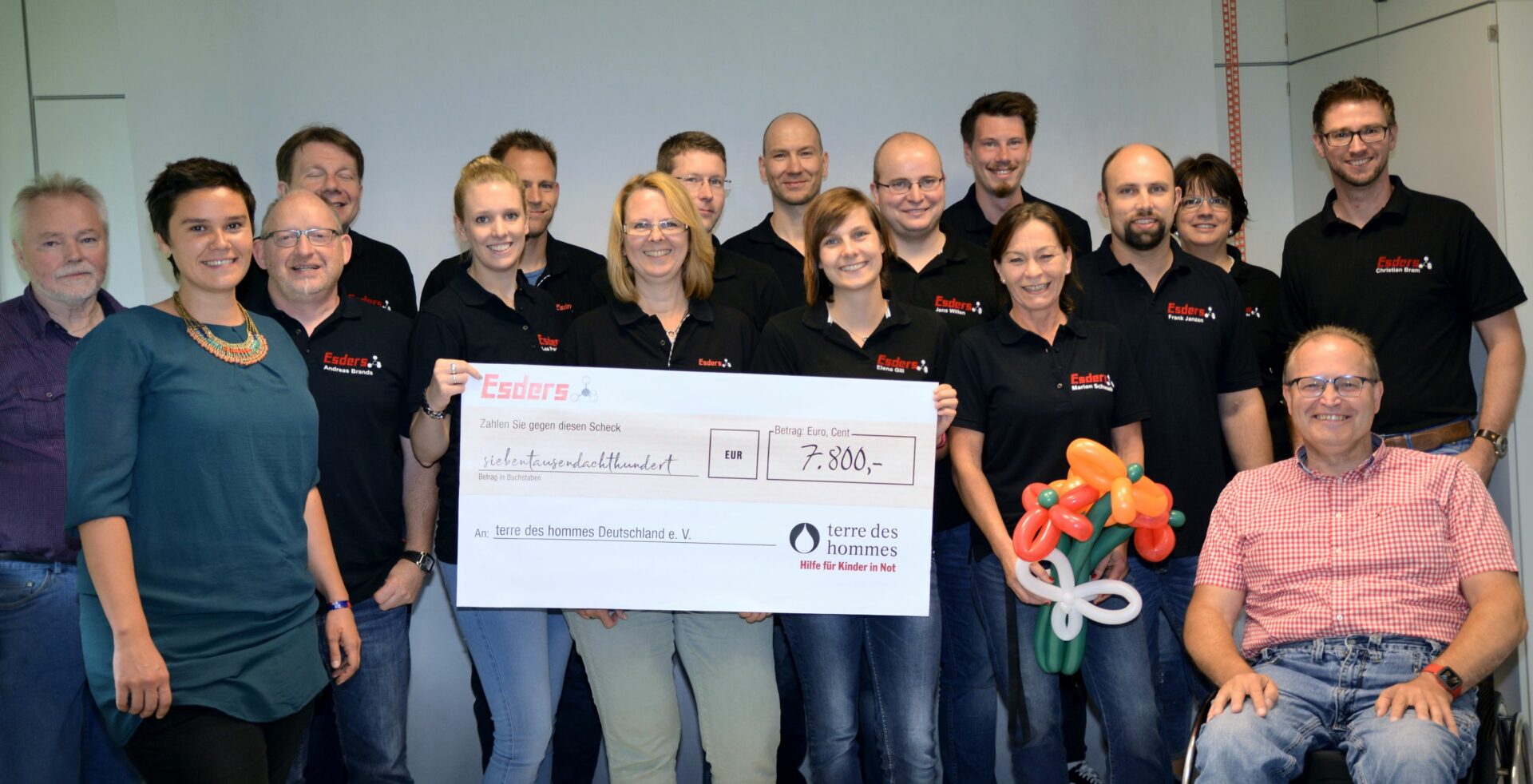 "How far would you go?" was the name of the jubilee campaign in which people could participate alone or in teams to collect donations for the common cause: Helping children in need. The campaign could be funny, social, sporty or crazy.
Working overtime for a common goal
"It was just great how this action went in our company. There were many discussions, everyone wanted to do overtime", said physiotherapist Marion Schwaeke, responsible for the company health management. In total, we worked 225 hours of overtime for terre des hommes. In addition, there were proceeds from the family festival. Bernd Esders increased the amount considerably and in the end the staff was able to stack 22 boxes in the courtyard – one box for every ten hours of overtime. "We simply wanted to show our employees what they had achieved".
The sum of 7,800 EUR is to be used for a "water" project. "Specifically, we will still decide together with Esders what the money will be used for," said Böttcher. "It is also nice that everyone finds out exactly what their money is being used for and not for anything anywhere," pointed out Managing Director Bernd Esders.
Well construction and school renovation
BELU e. V. has set itself the task of helping the people in Kabango (Uganda). Bernd Rickermann from Ahmsen and Ludwig Wilkens from Lorup have often been to Uganda and know the suffering of the people, especially the children. Every fourth child does not reach the age of four because of the poor water quality.
We are happy to contribute with our donations so that the planned projects can be implemented.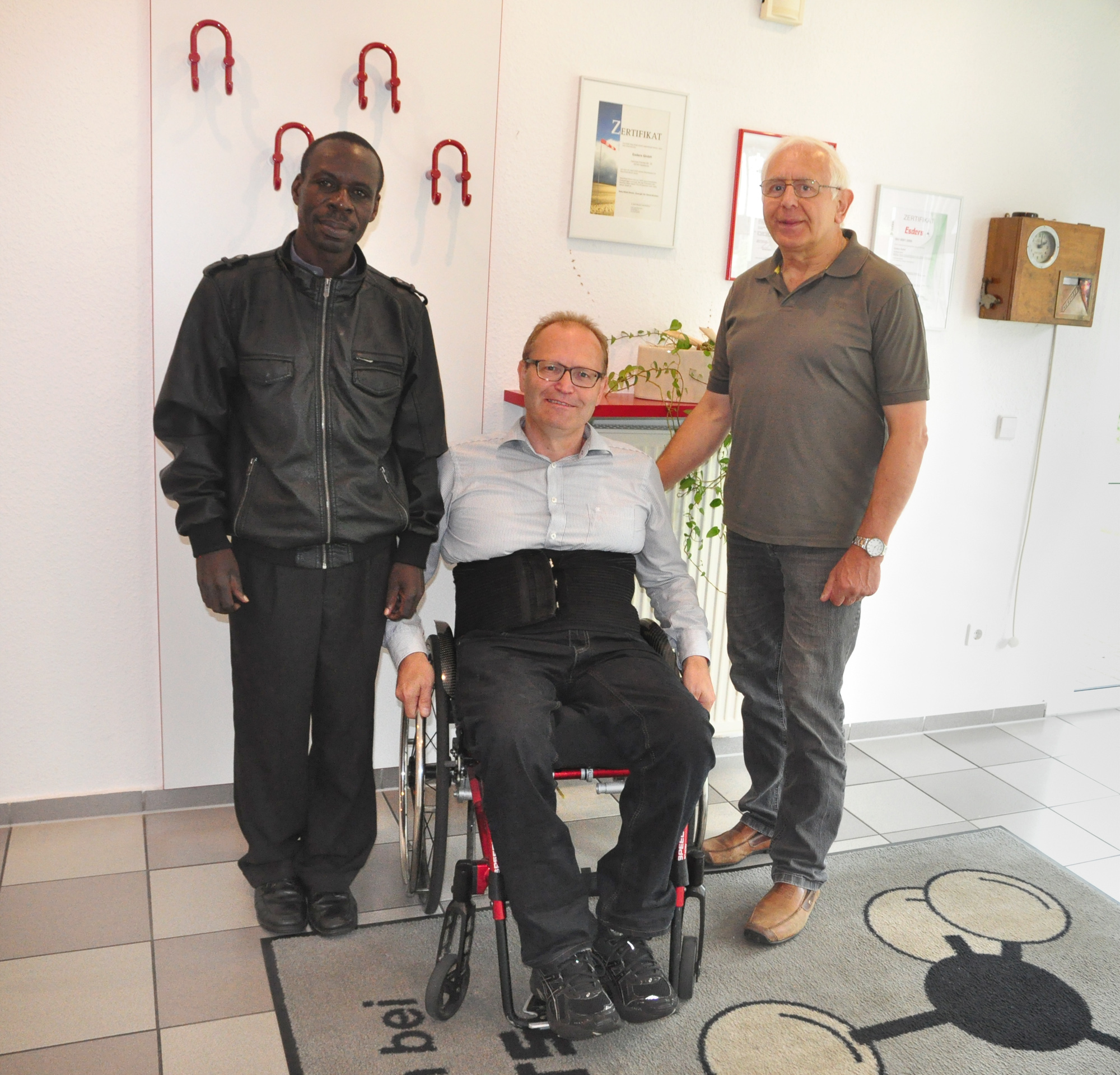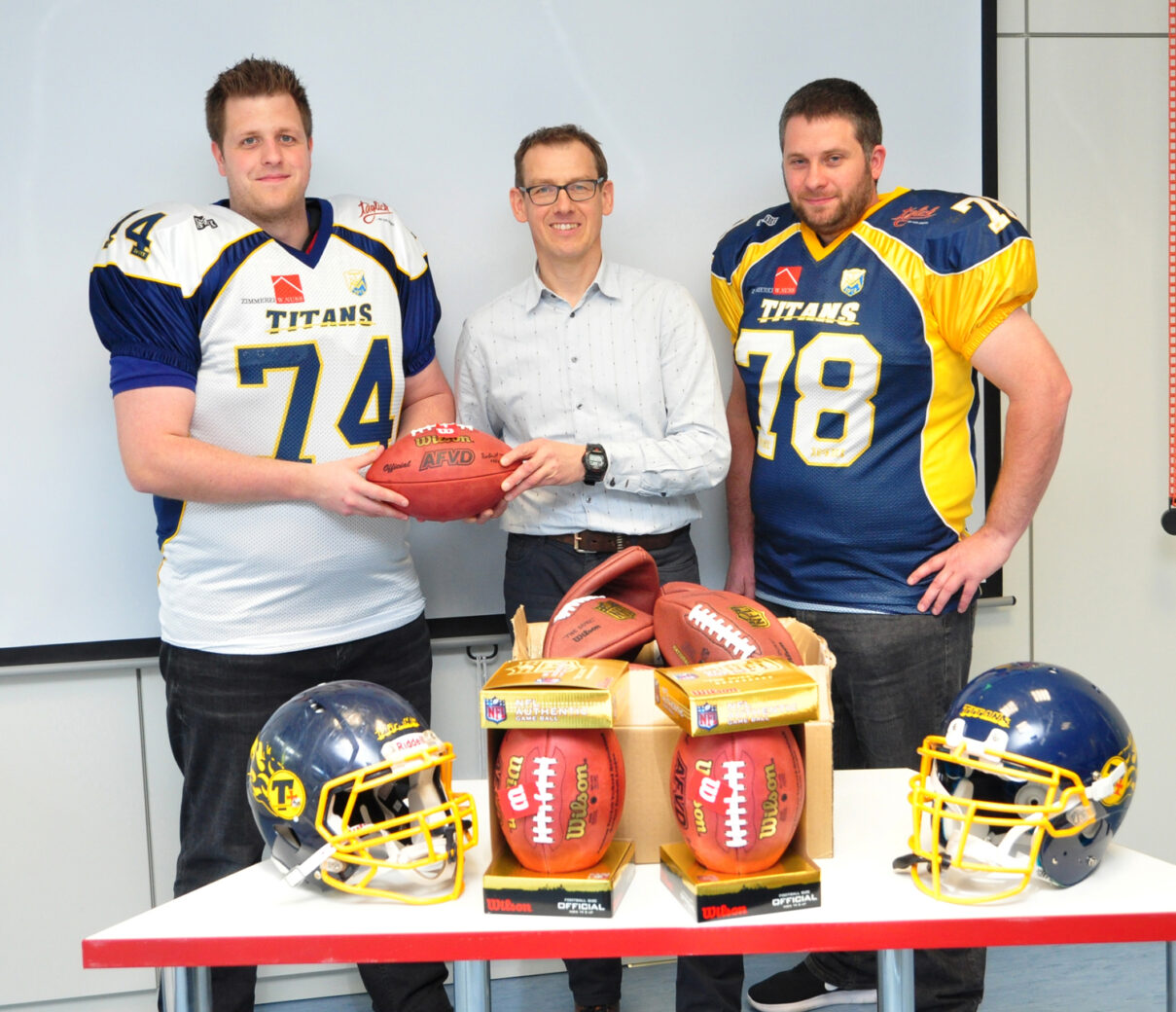 Coach and players Florian Algeier and Franciskus Van den Berghe are happy about 13 new footballs. The Young Titans from Meppen still played for TV Meppen until 2016 and then decided to found a new club as they wanted to be more independent.
We are happy to support the new start.
hASETOR cultural forum e. V.
Culture, cinema and concerts
Together with many other local companies, we support our cinema in Haselünne and thus promote cultural life in Emsland.
Thanks to the refreshingly colourful mix of children's programmes, music, comedy and cinema, our hASETOR has become a permanent fixture in the cultural life of Emsland.