WE TAKE CARE OF OUR ENVIRONMENT.
When we think about the future, we worry. We think about our children and the problems they will face due to climate change. We think about people in many regions of the world who are displaced by wars and violence.
The interplay of these factors is exacerbating the situation in many countries and forcing people to leave their homes and build new lives in a new cultural environment. Not only violence and armed conflicts, but also climate change is destroying the livelihoods of people in many countries. We must take responsibility for this and become active.
Companies are more than profit-oriented economic enterprises, they are also social stakeholders.
With our products and system solutions, we have been contributing to the safety and conservation of our resources for 30 years. In addition, we actively take responsibility for all areas over which we have a direct influence in order to reduce our ecological footprint. This includes, among other things, energy supply from resource-conserving and regenerative sources.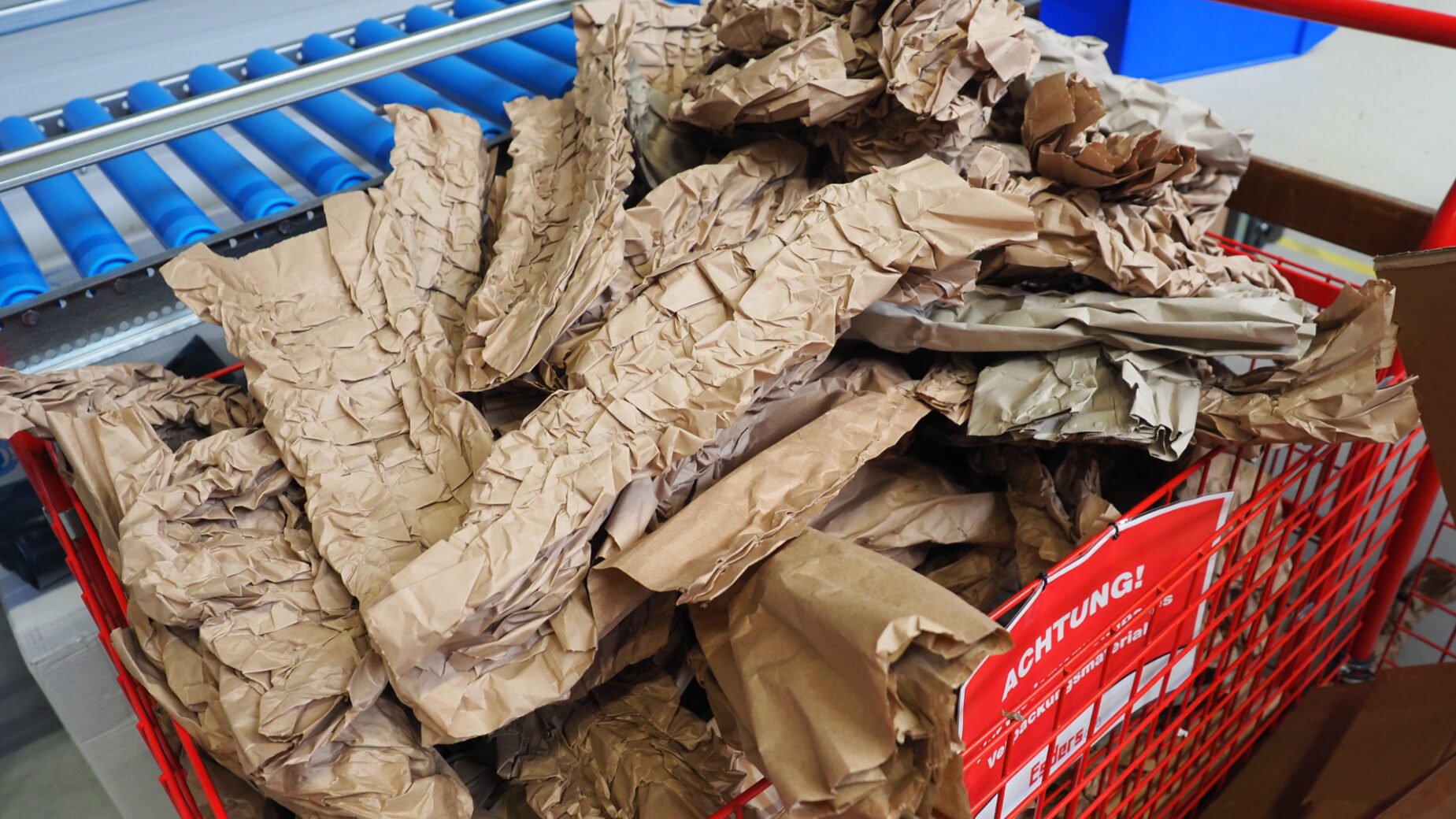 SUSTAINABILITY IN MODERN PRODUCTION
Responsibility starts with each individual, so we regularly review ourselves and optimise our processes. Every small idea for a better environmental balance is worth considering. You can find out more about our sustainability strategy in production under the following link.
WHAT HAS HAPPENED SO FAR: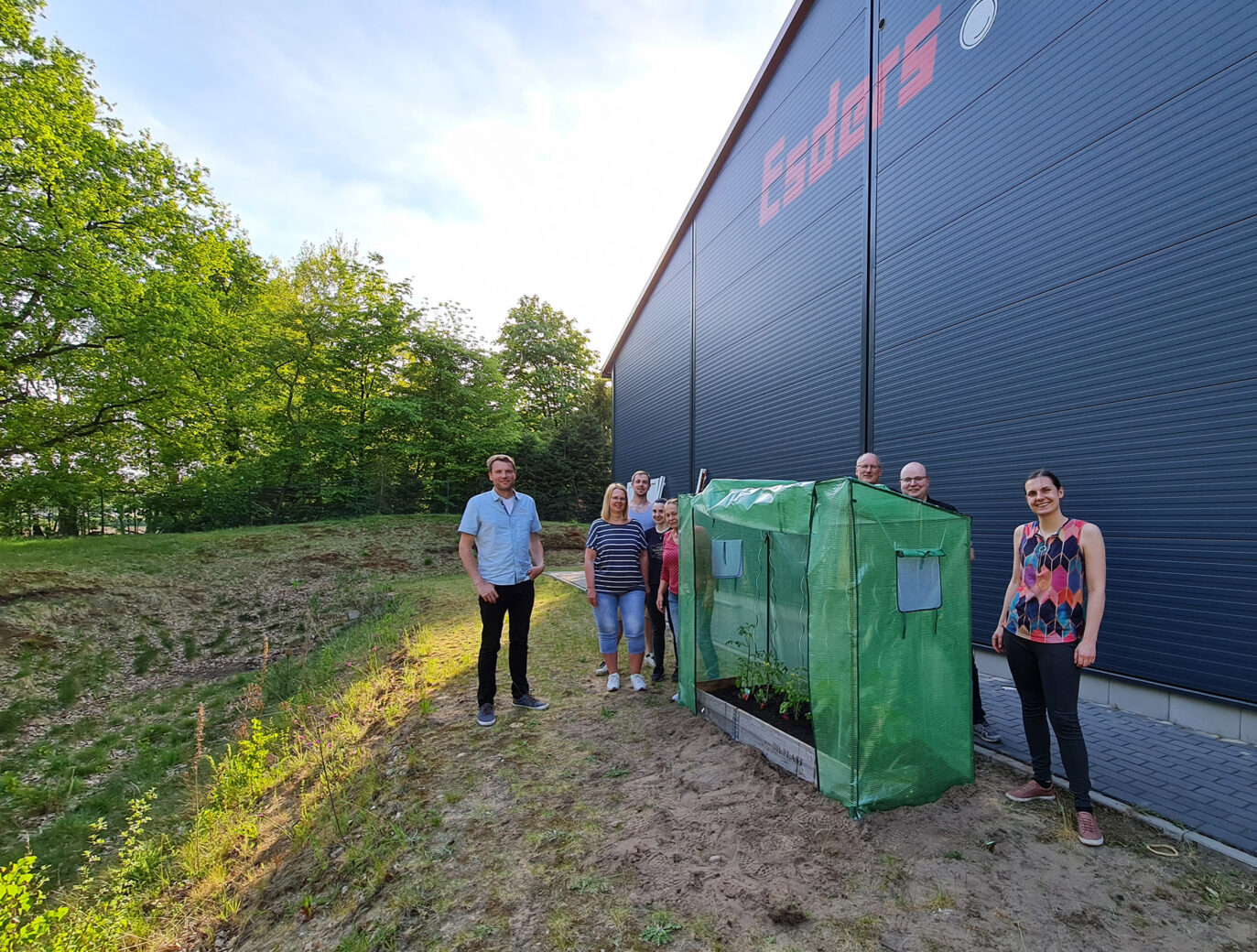 PLANTING ACTION STEERING COMMITTEE
In the rear area of the company's property, our steering committee for occupational health management erected a small greenhouse that was planted with tomato bushes and cucumber plants. It was important to us to create new habitat for insects with the planting campaign, but we also thought about our physical well-being.
Three years later … our pergola is developing splendidly. The shading of the offices works great. The indoor climate is much better than if we only had roller blinds.
We are already looking forward to the grapes and kiwis this year. We would not have thought that it would work so well with the kiwis in Haselünne.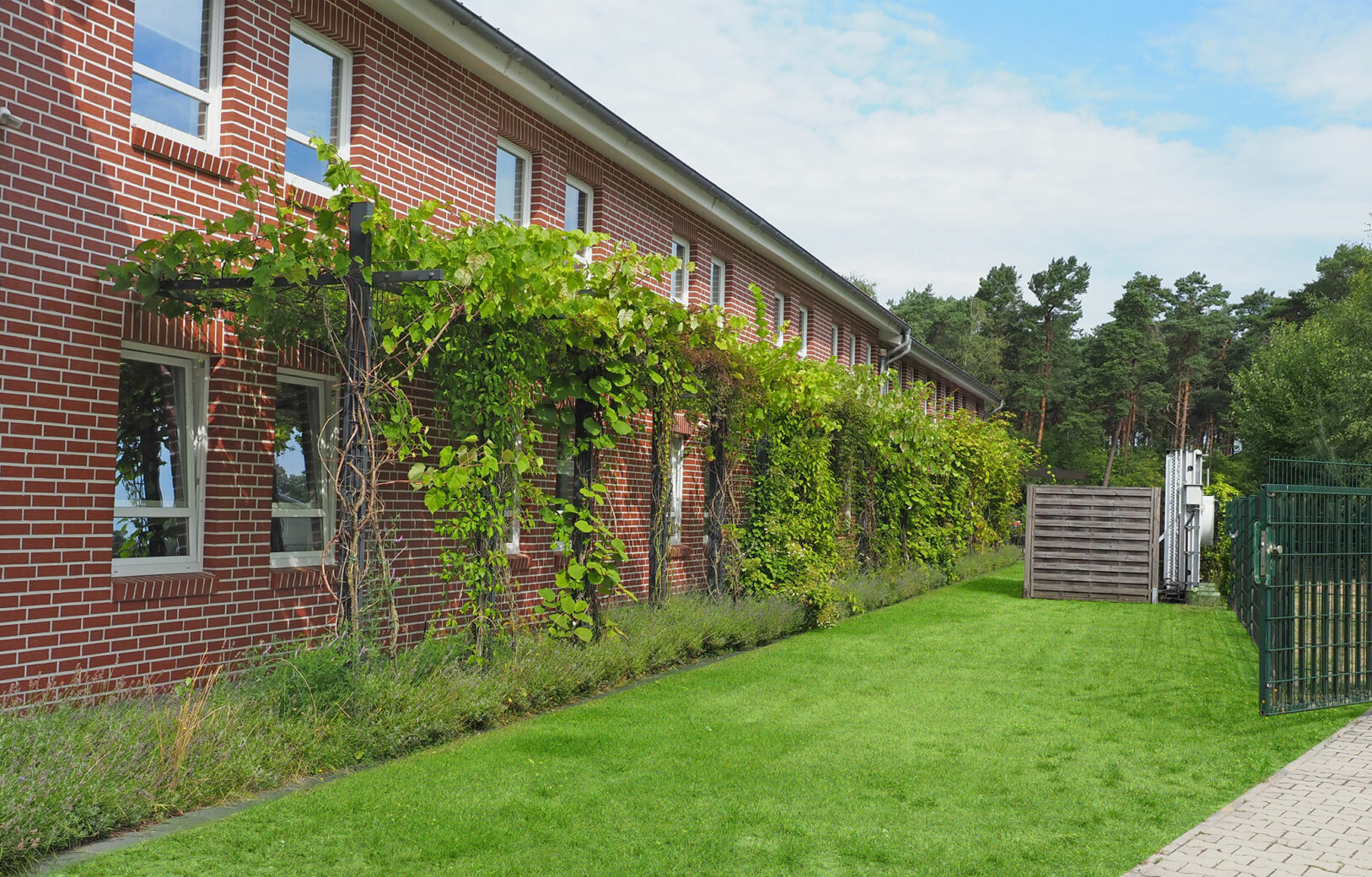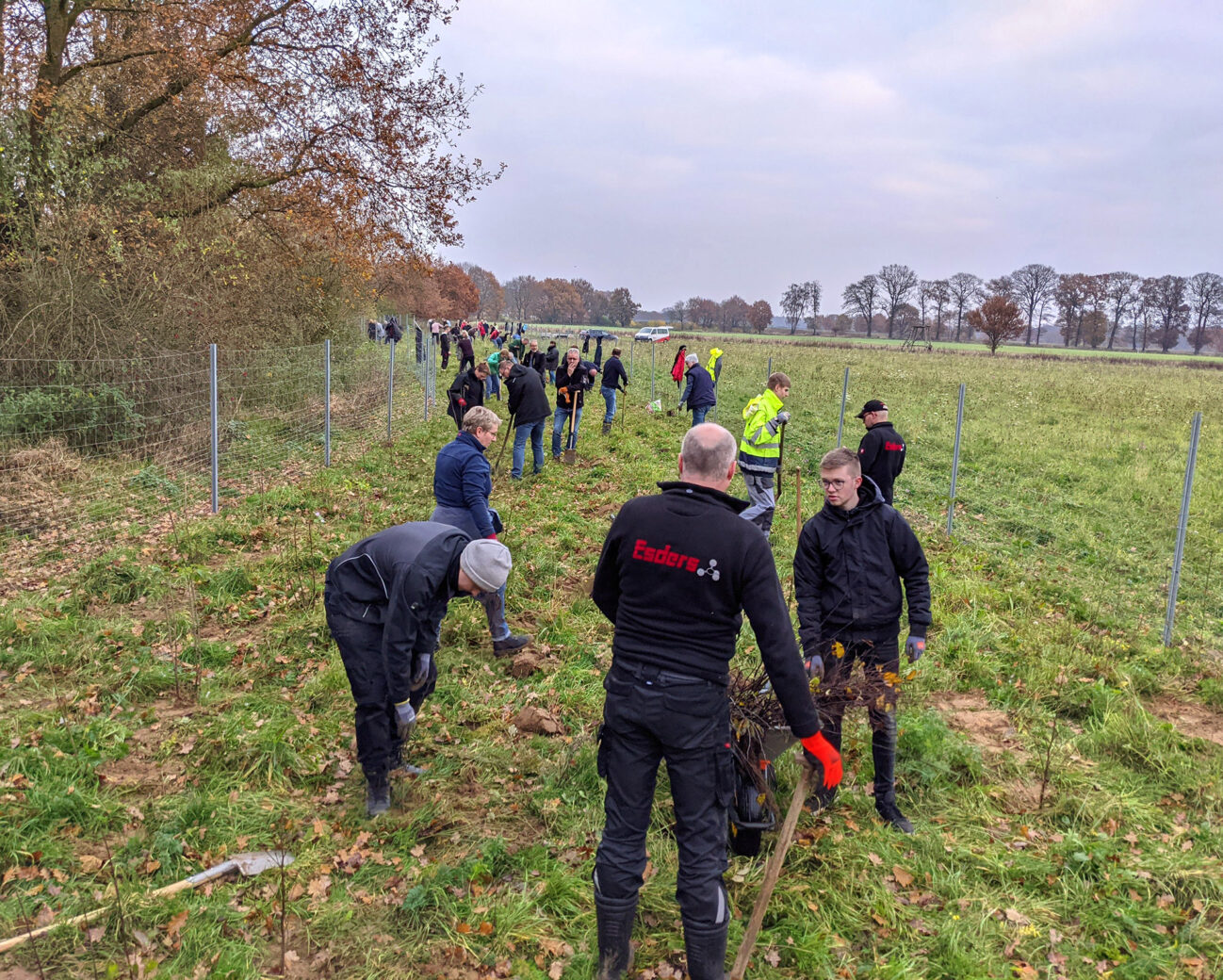 TREE PLANTING CAMPAIGN 2021
In memory of Bernd Esders, friends and colleagues donated an impressive sum for environmental protection in 2021. This enabled us to plant 1,000 trees together with the Emsland Nature Conservation Association and many helping hands.
We not only want to do something for the environment, but also take care of our health at the same time. The Esders company has been supporting bicycle leasing since May 2020.
Many colleagues have already taken advantage of the opportunity and are enjoying their new E-bike, for example.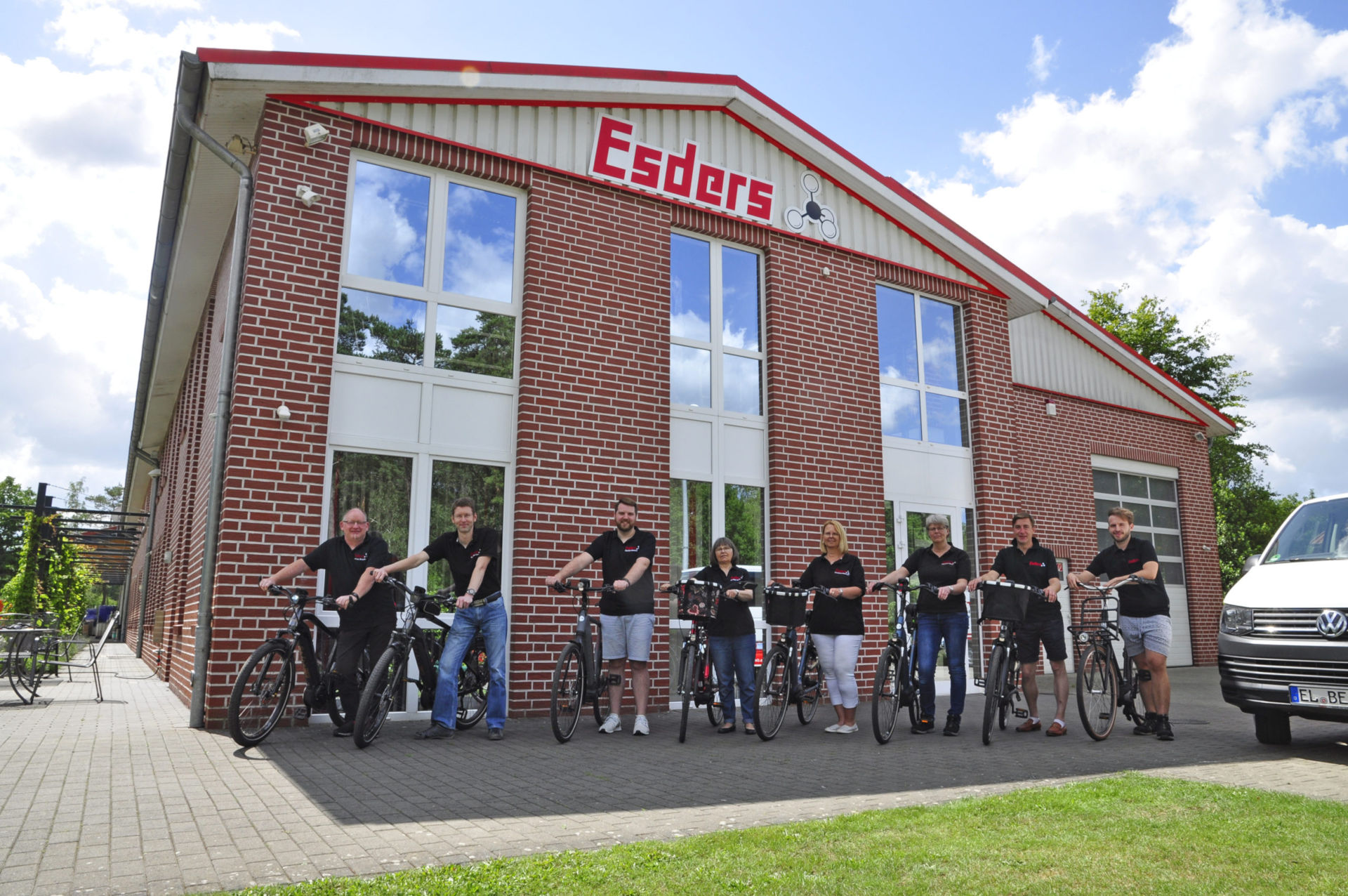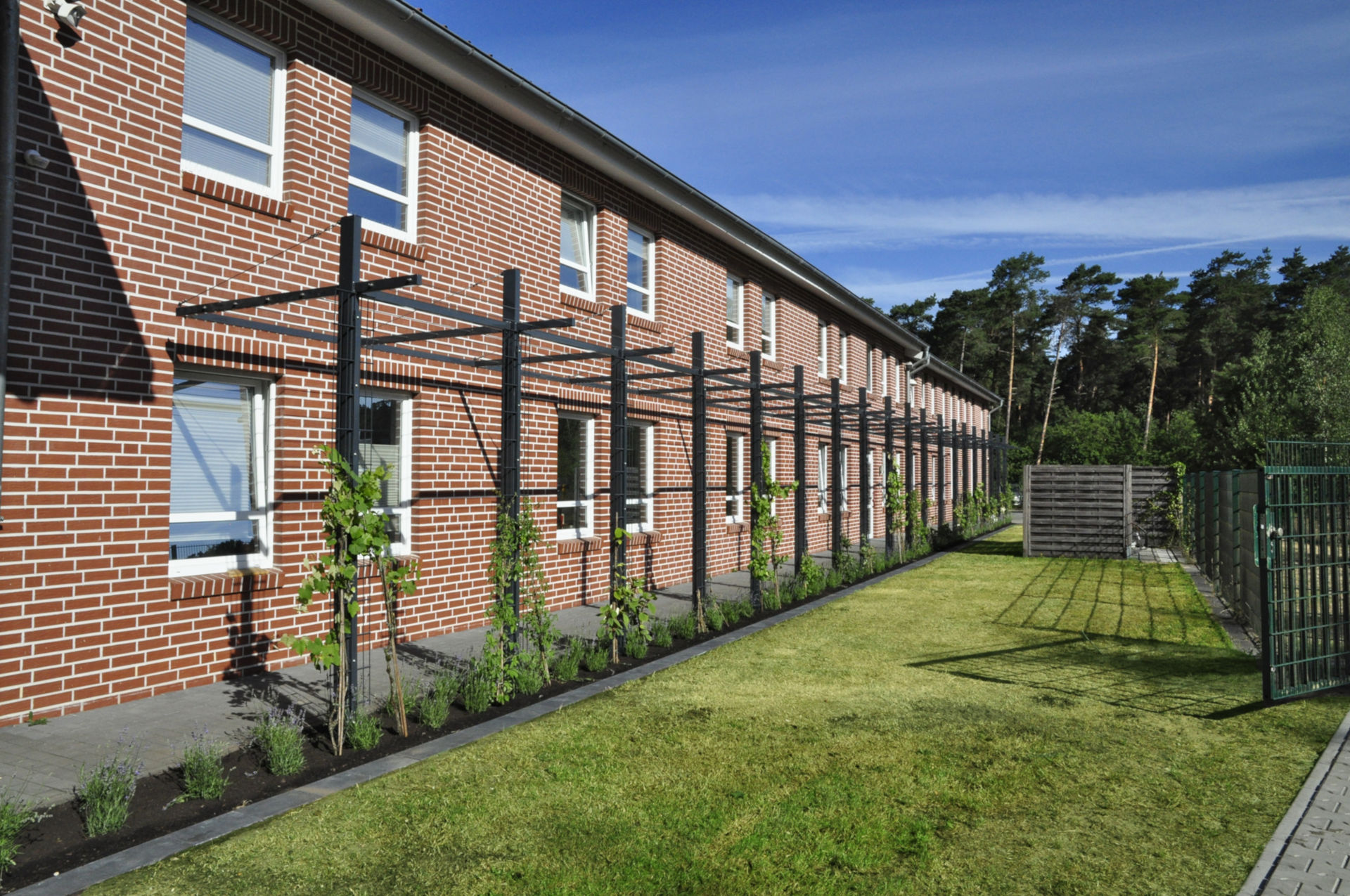 Our pergola is not only intended to provide shade for the rooms and windows, but also to significantly improve the microclimate. The evaporation of water results in cooling. It also provides a much more pleasant climate underneath the plants.
Next year it should bear fruit such as blackberries, grapes or even kiwis.
We thus create more space for insects and birds!
CHARGING STATIONS - E-MOBILITY
To increase sustainability in the company, we have equipped eight parking spaces at the car parks with charging facilities for electric vehicles, which are powered by green electricity.
Here, not only our employees but also our customers have the opportunity to charge in order to be able to cover as much of their distance as possible with electric drive.
Since many of our seminar participants come to Haselünne from all over Germany for training courses and electric vehicles at the peak of popularity, especially among utility companies, charging should be made possible in an uncomplicated way. The use is free of charge for our customers.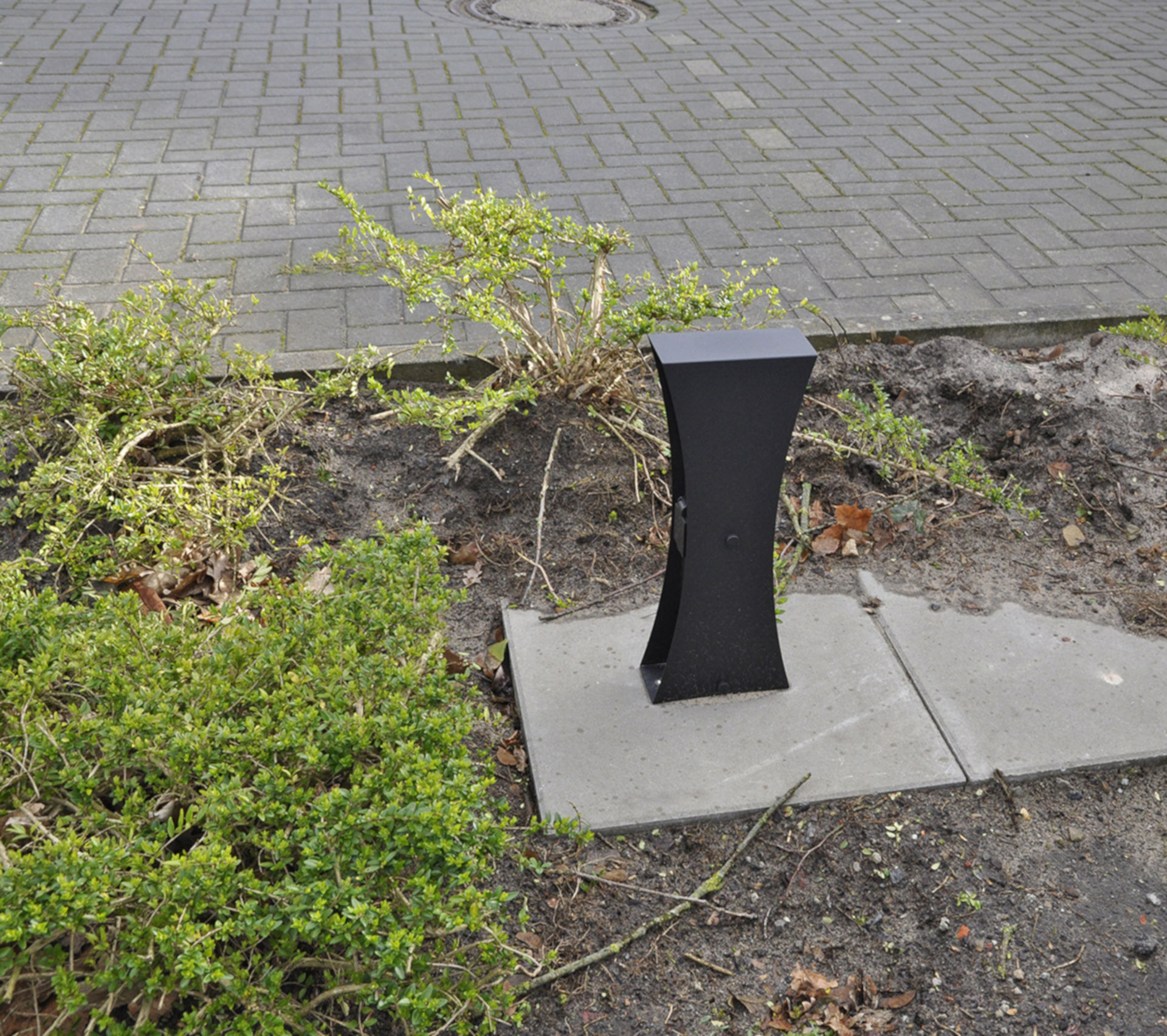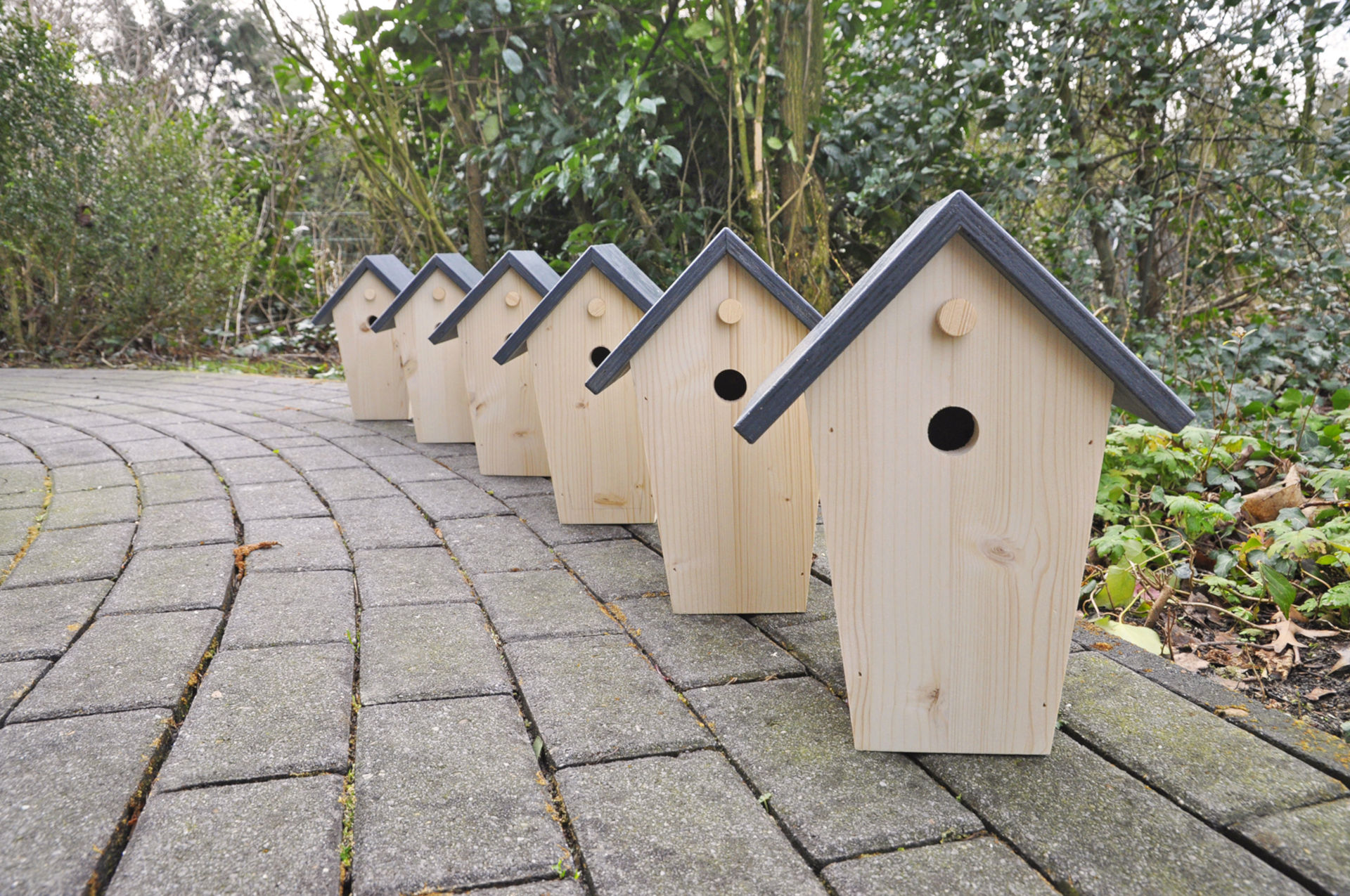 The problem of the oak processionary moth has also increased considerably here in Emsland in recent years. A natural method of control is said to be the titmouse and we want to support this.
With these birdhouses, we are not only providing a home for the birds, but we are also trying to combat the oak processionary moth in an environmentally conscious and biological way.
Thanks to the JVA in Lingen for building these birdhouses for us.
SUSTAINABLE ENERGY SUPPLY
… through a combined heat and power unit, a photovoltaic system and additional cooling through our pond.
We consume 96 % of the electricity we generate ourselves and feed 4 % into the EWE grid. If we need additional electricity, we purchase it exclusively from renewable energy sources (EWE green electricity – Naturwatt pro) and have been doing so since 20 April 2000.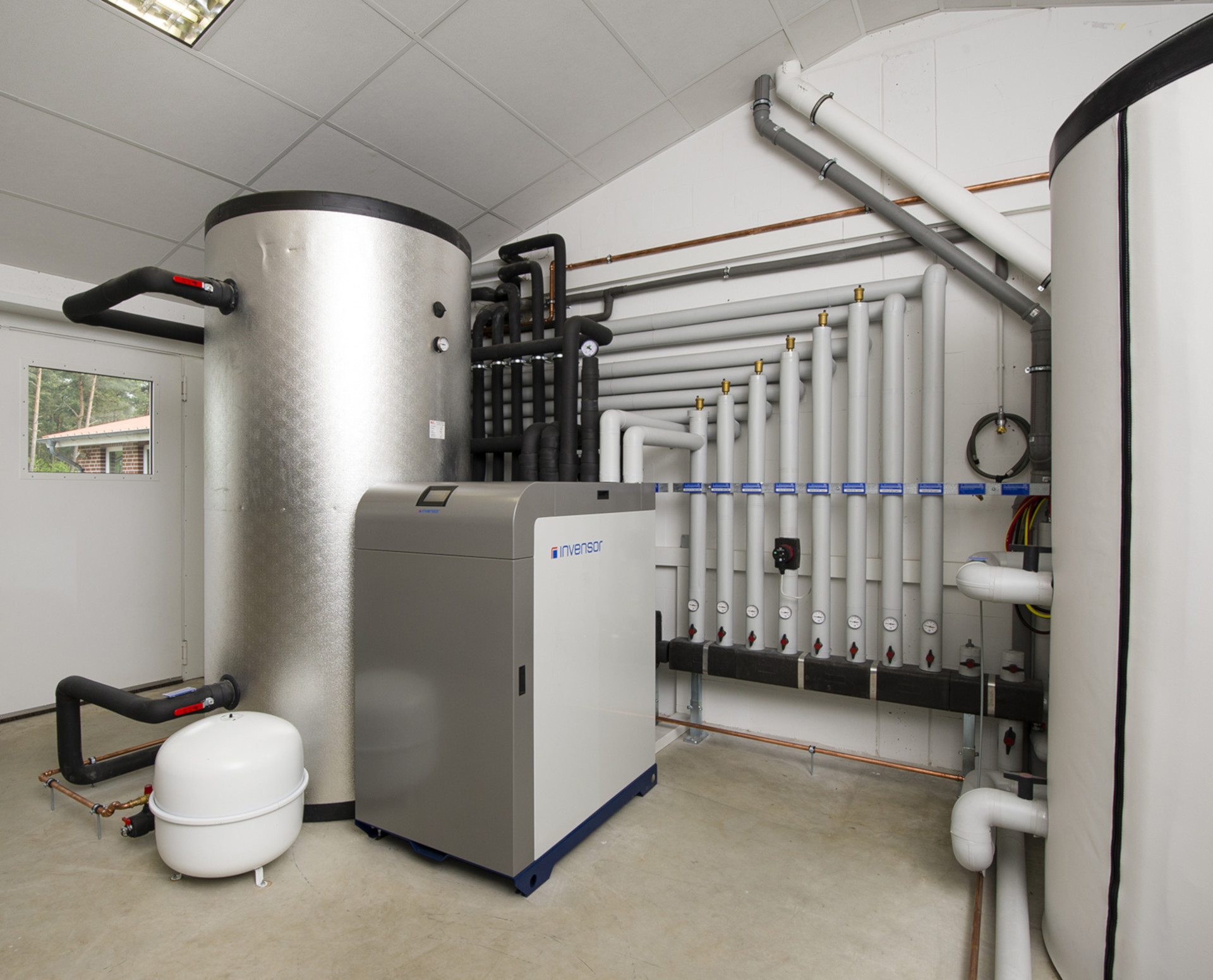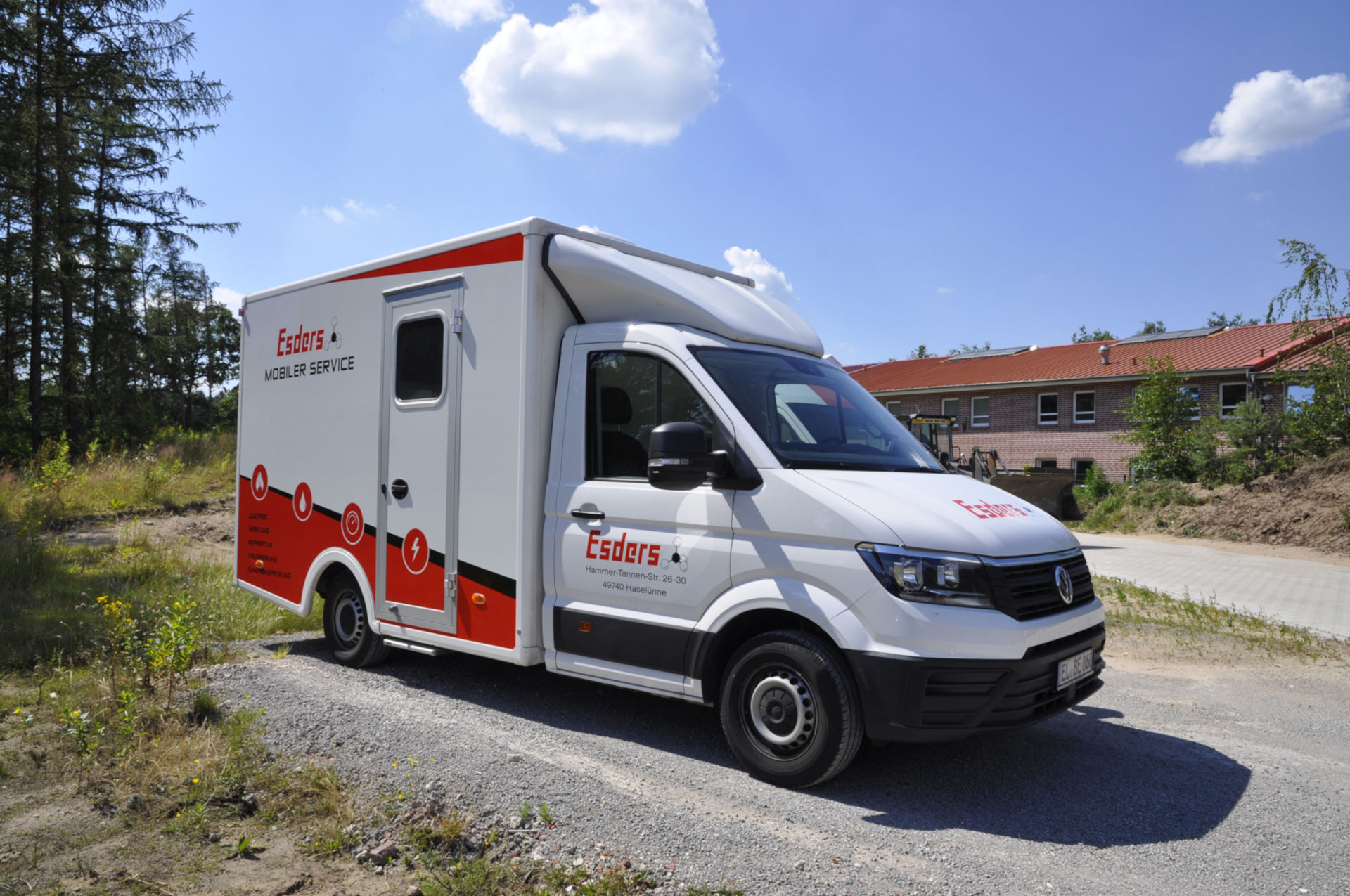 CLIMATE PROTECTION CONTRIBUTION
Not all business trips can be avoided or CO₂ emissions saved. atmosfair offers us the opportunity to offset the greenhouse gases we generate through vehicles with a donation.
RAINWATER INFILTRATION BASIN
Our environmental activities also include the infiltration of rainwater through our constructed storage basin (rain infiltration basin).
This holds back the precious rainwater from our sealed surfaces during heavy rainfall and stores it temporarily. The water then seeps into the basin naturally. The rainwater from the residential building is also collected and pumped to the pond. Here, however, it is not infiltrated, but fills the water level that falls through evaporation, without us having to resort to groundwater for this.
Note: While a rainwater retention basin gradually releases the stored water into the receiving pond, a rainwater infiltration basin has the task of gradually infiltrating absorbed rainwater.